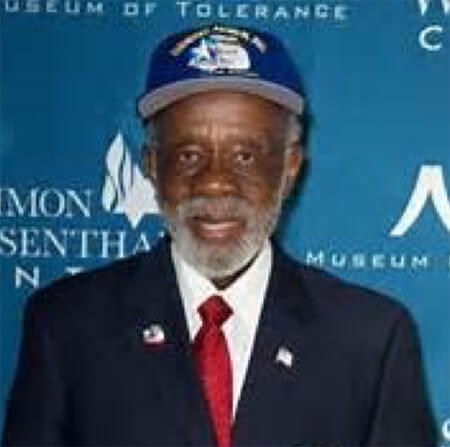 Documented Original Tuskegee Airman (DOTA) Advisor
Theodore G. "Ted" Lumpkin, Jr.
Theodore George Lumpkin, Jr. was born in Los Angeles California December 30, 1919.  He is the oldest of six children.  He attended public schools in Los Angeles, graduating from Jefferson High School in 1938 and Los Angeles City College in 1940 with an Associate of Arts Degree in Mathematics.  He applied and was accepted by the University of California at Los Angeles where, during his senior year he was drafted into the Army in July 1942.  Following the US Army induction and testing at Ft. McArthur, California, he was sent to the Tuskegee Army Air Corps Base in Alabama for basic training as a member of the 689th Aircraft Warning Squadron to learn RADAR. After completing basic training, he applied for Officer Candidate School (OCS), he was accepted graduating from OCS as a second lieutenant in January1943.  He was then assigned to the 100th Fighter Squadron, at Tuskegee Army Air Corps Base as an administrative officer.  Upon completion of Combat Air Intelligence training, he was assigned back to the 100th Fighter Squadron as an Air Combat Intelligence Officer.
In February 1944, he was shipped overseas with the 332nd Fighter Group to Italy in the European Theater.  He served as an Air Intelligence Officer for the 100th Fighter Squadron, 332nd Fighter Group from February 1944 to November 1945.  His primary role was briefing unit pilots for their combat missions to Northern Italy, Eastern Europe, Southern France and Germany and debriefing them following their return from the missions.  His other duties included preparing intelligence reports for Group Intelligence regarding mission results and presented intelligence briefings to the unit ground support personnel concerning overall WWII progress.
After the VE day, he returned to the U.S. as a "high point" combat veteran of WWII.  On January 20, 1946, he was honorably separated from the US Army Air Corps with the rank of Captain.  A few months later, he volunteered to join the Air Force Reserves where he served as an Air Intelligence Officer from 1947 – 1968 in various stateside locations.  He retired from the Air Force Reserves in 1979 with the rank of Lt. Colonel.
In 1947, he began civilian employment with the County of Los Angeles.  After 32 years with the county working for several departments in various critical administrative positions, he retired in 1979.   That same year he took and passed the real estate examination for the State of California and received his California Real Estate License.  In 1995, after passing the State of California Real Estate Broker Examination he opened his real estate office and has been an active real estate broker continuously since.  He is currently active in organized professional real estate and member of the National Association of Realtors (NAR) and the National Association of Real Estate Brokers (NAREB) at the local, state and national levels. 
Theodore Lumpkin has been continuously involved with Tuskegee Airmen, Inc. serving as an officer at the chapter level and member of the national board of directors.  Since 2007, he has been a member of Board of Directors of the Tuskegee Airmen Scholarship Foundation.