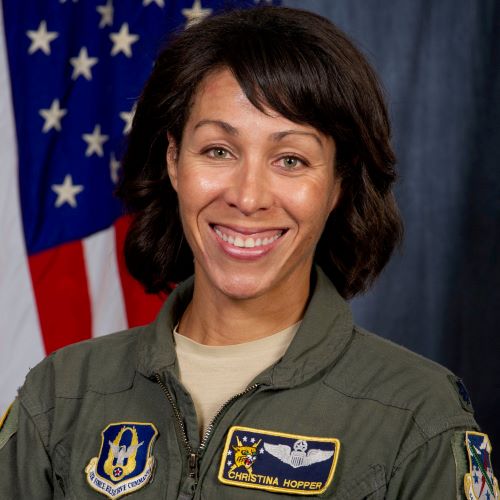 Lt. Col. Christina Hopper
Lt. Col. Christina Hopper is a T-38C Instructor Pilot with the 5th Flying Training Squadron, Vance AFB, OK.
She graduated from The University of Texas at Austin, with a Bachelor's Degree and commissioned through AFROTC. Upon graduation from pilot training, Christina went on to fly the F-16. During the course of her career, she deployed worldwide and flew more than 50 combat missions. She is one of only two Black female fighter pilots to serve in the Air Force and has the distinction of being the first Black female fighter pilot to fly in a major war. After transitioning from Active Duty to the Air Force Reserves, she became a T-38 instructor and settled in Enid, OK with her husband, Lt. Col. Aaron Hopper, and their three children.
Lt Col. Hopper is a Regular Member of the Gen. Lloyd "Fig" Newton Chapter of Albuquerque, NM. She is a professional public speaker and affiliated with Athena's Voice; a veteran women's speaking company. Additionally, Christina is an accomplished triathlete who has successfully completed World Championship IRONMAN events and competed on the Armed Forces triathlon team at the international level.

She is committed to preserving the legacy of the Tuskegee Airmen, and promoting diversity in aviation and military service. If appointed and confirmed, she is committed to serving a full term to continue the work of growing and inspiring future leaders for our country.